You can choose to activate e-invoicing for your event. This means that your participant can submit the PDF invoice as an e-invoice to his or her organization.
The actual payment of the invoice is separate from submitting the e-invoice, it is also possible that the participant pays via iDEAL and then submits the e-invoice for further processing. The participant will of course still receive his invoice in PDF format by email.


How do you activate e-invoicing?
You can activate e-invoicing for your participants via Dashboard > Event website > Payments via the checkbox below:



Please note:
E-invoicing does not work in combination with bank transfer to your own bank.

How can a participant choose E-invoicing?

On the payment page, the participant can fill the invoice details. An additional option can be seen under this invoice data "Publish as e-invoice".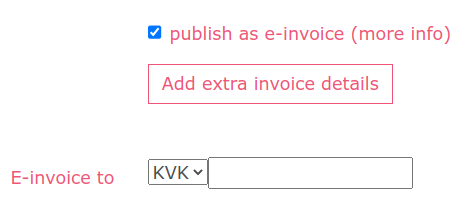 There is a link to more information about what e-invoicing is. This has been added because some participants expect e-invoicing and a PDF invoice to be the same.
Delivery address for the e-invoice

The participant is then informed about what information is required to be able to prepare and send an e-invoice. It is important that only governments and companies that are connected to the PEPPOL network can opt for e-invoicing.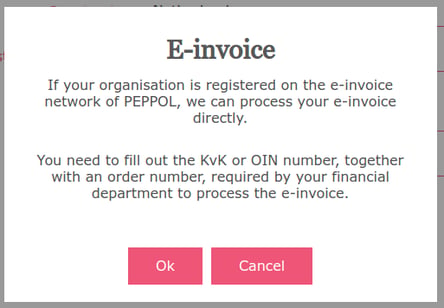 Chamber of Commerce or OIN number
The participant can now enter the Chamber of Commerce number or OIN number of his organization. In addition, an order number is required. The OIN number is the number that Dutch governments use to identify themselves.

The order number ensures that the financial department is aware of the cost center of the invoice and can therefore proceed to payment.

An e-invoice will created in the background and sent via the PEPPOL network when the required information is filled in here. The participant will also receive a PDF invoice by email as a copy and for their own administration.
Feedback for incorrect input
If the Chamber of Commerce number or OIN number is not known, you will see the following message: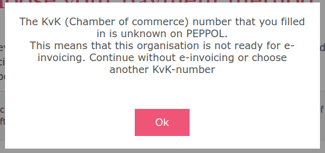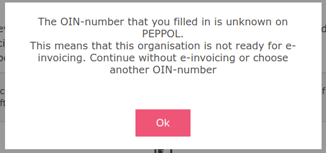 If the order number has not been entered, you will not be able to continue sending:



Payment of the invoice
Submitting the invoice as an e-invoice is only for the administration of the invoice, this is not actual the payment of the invoice. The participant can therefore still choose to pay the e-invoice directly via, for example, iDEAL or credit card. In addition, the financial department that receives the e-invoice can proceed to payment based on the received IBAN and invoice number.