To import multiple personal data items at once into the contact list, do the following:
In the Dashboard, select Address book.
Click the button Upload Excel.
Click the yellow link 'download a sample Excel file here':




Complete this Excel with your contacts. Make sure that you leave columns A to G intact, so do not delete them. You can add extra columns from column H onwards. Surname and e-mail address must be entered per line, other columns are not mandatory. If you do not know the surname, enter an 'X' or '.' to fill the cell anyway. Of course, you cannot use a personal salutation in your message if the names are not known.

You can fill in a label in column G to create different target groups within the contact list (see the tip about labels below for more information).

Save the Excel file.

Again click Upload Excel.

Click the Browse button and upload the Excel file you just created.

Using the Default label drop-down menu, you can add a label after uploading for the people you didn't enter a label for in the Excel file yet. Please note! All people for whom column G is not completed will receive this label. You can of course also choose not to add a label.

aanmelder.nl automatically filters duplicate e-mail addresses from the file. If you do not want this, please uncheck this option.




Tip
Adding labels to contacts

For each contact that you upload to your contact list, you can add a label. A label allows you to assign a contact to a specific target group and send invitations, messages and reminders to them via the Dashboard's Messages feature. The names of the labels are set by you and are only visible to the organizer.

Labels are optional and do not need to be added directly when uploading contacts; you can add or change a label at a later stage.


Tip
It is possible to pre-fill an answer to a question from the registration form by using the contact list. By default, all fixed columns in the Excel file of the contact list can be filled in, such as Company name or E-mail address.

Note: For the Company name, it is important to use a specific question type in the registration form: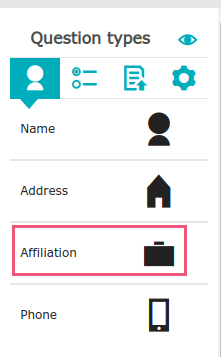 You can also pre-fill other information from the registration form, for example, function or education. Click here for more information.